While the month of April gave us Close-Up Summer Solstice, an EDM festival ala Zouk Out of Singapore, the month of May didn't end without offering us another music fest, this time on Coachella style!
Last May 18, Globe Circuit Events Ground in Circuit Makati opened their gates to welcome us to the very first Wanderland Music Fest brought to us by Karpos Multimedia Inc.!
I have to admit, I wasn't that interested at first to take part of this event, primarily because I was set to go to Avicii's concert which happened 3 days before Wanderland. But that same week, as the day goes nearer, I became a bit sad not being able to get tickets for this festival's inaugural. But shortly after going home from Avicii night, I received a message from Nada Surf THEMSELVES saying that they enlisted me under their band's guest list! And I didn't join any contest, just pure luck!
Almost got lost searching for Makati Circuit (formerly PRC), was a bit surprised when I saw the facade outside, maybe I just got to compare it with MOA concert grounds. Arrived their almost 2pm but we were able to get in the place almost 3pm coz there has been a problem with the guest list. Aside from me, there are also some who can't get in because the organizers can't find our names. Good thing Ms. Stephanie Uy of Karpos Multimedia attended to our concern and pointed out to the registration people where our names are. I hope next year registration would be more organized.
As soon as we got in the place, we searched for a good spot to lay our mats where we would be staying for the next 10 hours! Yes better bring your mats, umbrellas, sun glasses, hat, as you'll be sitting on the grass under the summer heat!
THE BANDS:
Unlike Summer Solstice where it featured 3 mainstream OPM bands and 7 international DJ's, Wanderland 2013 showcased both local and foreign indie bands that still made a mark to each of the attendees' playlists!
First to perform was Taken By Cars, who also performed last year for SXSW (South by Southwest) Music Festival in Austin, Texas. Glad to finally see Sarah Marco in person!



Pulso went next with their smooth sounding instrumentals! This Terno Recordings band is fronted by model Robby Mananquil.
She's Only Sixteen made many girls scream as this commonly-compared-to-Arctic Monkeys-band showcased their youthful vibe on stage!
My favorite among the first four bands is another Terno Recordings band, Yolanda Moon. I definitely love Cholo Hermosa's voice and the whole band's soulful music best for late-night lounging!

photo from http://www.lestervictoriano.com/
The first foreign act to perform is the Australian band Colour Coding. Among the Wanderland line-up, this is the only band that I'm not really familiar with. Nevertheless, I am grateful to have discovered this young duo that young girls will surely love!
The folk music band Avalanche City performed next, introducing their set with The Streets. People got the folk sound vibe as they clapped to the beat while I was at the back grabbing some hotdog sandwich, lol! Yeah I only got to watch them from afar as it was my tummy's demand to eat when they performed. Went back to the VIP area with their song Sunset, which I learned that Karpos intentionally put them on the before 6pm slot to exalt the hit song!
photo from
www.magicliwanag.com
Sunset welcomed Tully on Tully, the cute girl in red Natalie Foster (vocalist) really looked happy as she performed in front of her Filipino fans! I dunno if it's because of the red dress but she just really looks charming that night!

photo by
www.magicliwanag.com
In between the foreign acts is our very own, and a crowd favorite too, Up Dharma Down! I've watched their gigs before but this is my first with their latest album Capacities. Armi Millare (vocalist) looked stunning white that night, man she'll always be one of my lesbo crush! I was so happy to see Armi on a different mood, you know not the stiff and serious type, she was dancing with the crowd and was clearly having fun the whole time! Probably being in a relationship inspired her smiles!
photo by
www.magicliwanag.com
Now for the event's 3 main bands!
This next band is probably familiar to those fans of series like The OC, One Tree Hill, and How I Met Your Mother. Nada Surf, ow thank you so much for the passes, gave us many of these series' heart touching soundtracks. Matther Caws (vocalist) shared to the crowd that they're not really planning to perform anywhere this year, but when Wanderland invited them, they just couldn't resist... aaaw! I'll never forget how you guys sang Inside of Love, got teary eyed while singing with them. Thank you for the performance!
photo by
www.magicliwanag.com
Now here comes my favorite set among others, Neon Trees! Vocalist Tyler Glenn on his bright orange jacket, together with his neon lit microphone, was really living up to their name. They sang some of their hits like 1983, Everybody Talks, and of course Animals - we definitely jumped up and down as soon as the first few notes of this song was played! He made everyone rocked that night with his antics, high level energy, mosh pit moment and how he threw random things to the audience! Solid!
photos by
www.magicliwanag.com
Now for the last hurrah of the night. Many among my peers wanted to see Wanderland because of Temper Trap, and the Wanderland attendees seemed to share the same reason. Good thing the event's headliners didn't disappoint us. They started their set with Love Lost, and we got the chance to hear Dougy Mandagi's (vocalist) falsetto with their ballad Soldier On. There was a problem with the bass guitar as they were about to play Science of Fear but it was fixed right away. Personally, Temper Trap showcased the best lights direction, photographers surely enjoyed it! They ended their set, and the Wanderland event, with Sweet Disposition. I don't know how to explain it but the finale song, the weather, the lights, the confetti, how I sang while looking at the skies, everything was so perfect! Definitely one of my favorite concert finale so far!
photos by
www.magicliwanag.com
Of course my story telling won't be complete without sharing the beyond the stage journey.
The Circuit Grounds welcomed us with a view of colors, flowers, aztec prints, boots, indian headdress, stalls here and there, huge inflattable stuff, and whatever and however you imagine a fair of hipster and indie band goers would look like!
I was happy with the fashion depicted from the event, makes me convince that we can be fashion forward (reminiscing on Tricia Gosiengfiao's statement. lol). Some wore swimsuits underneath, some on midriffs, basically many didn't spend much on cloth that day. I remembered me and my companion jesting: "So kamusta yung Wanderland?", "Ayun, puro bra!", and Ping Medina's tweet that day:
Looks like rain. Wanderland = wet hipster girls (and this might just convince me to go)




— Ping Medina (@PingMedina)
But again, it was a beautiful sight, same with the boys of course. I really love the 2 Australian boys wearing this blue printed top and dress!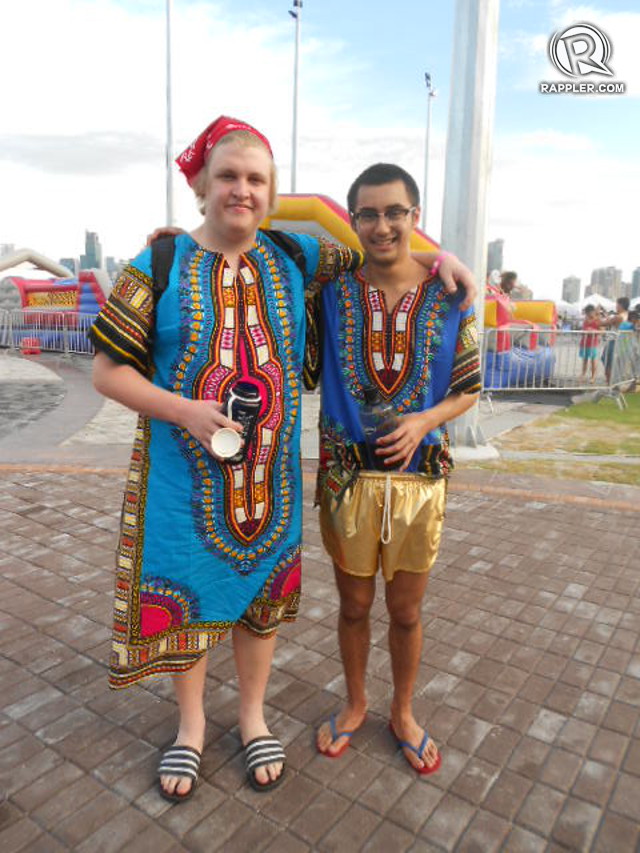 photo from
www.rappler.com
For sure many would look forward to wearing their hipster inspired get-up for next year's Wanderland 2014!
first 2 rows are from
www.magicliwanag.com
and last 2 rows from
www.rappler.com)
Around the Wanderland fair are the stalls or merch! There are a lot of choices, although not all are favorites, hence the long line on the popular ones (hello Jamba Juice!). Captain Morgan and Havaianas were present again, and same as in Summer Solstice, Captain Morgan has the P200 for 3 cups and one prize promo while Havaianas gave free vodka lime. Speaking of free stuff, being in the VIP section gives you free Smart C+ drink, Oishi chips, a tall glass of Nestea Ice Tea, a cup of Nestle Fitnesse cereal & Nestle coffee, and hell yeah, Magnum Ice Cream! Only got one Magnum though as I'm not a big fan of ice creams.
Hot Axe astronauts are here again! Saw them from Summer Solstice too.
photo by
www.magicliwanag.com
Rayban's booth is one of the coolest that day, with the huge Rayban balloon hanging and the "Never Hide" photobooth.
photos by
www.magicliwanag.com
Blame Wild Hearts for the beautiful floral crowns, Indian headdress, and other accessories seen everywhere among fashionistas!
Was amused to see Tides there, together with a real Tides set-up, let's drink to that!
photo by
www.magicliwanag.com
Other stalls sold beer while some sold mixed drinks. The non-smoking event (as what the posting outside the venue says), was still attended by smoking concert goers. I prefer that though, the whole festive moment may not be complete without them having a puff or two right?
Lastly, to make this a fun, lively, artsy, and YOLO experience, you have to try the velcro wall and the inflatable slides and jousts, plus see the artworks made for that day! The inflatable activities are free for the VIP while those from the Gold section would just have to pay roughly P20-30 to try it.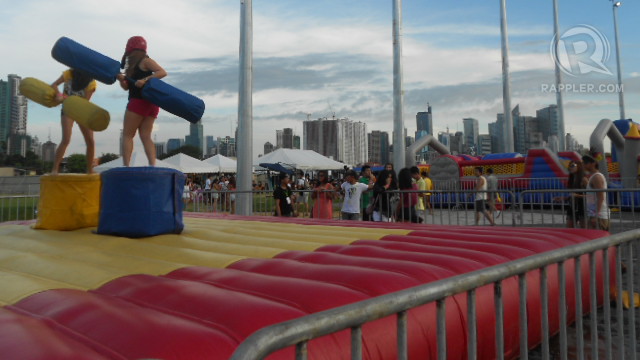 photo from
www.rappler.com
Celebrities joining the festivities were Ann and Jasmin Curtis Smith, Erwann Heussaff, Sam Concepcion, Coleen Garcia, Maxene and Saab Magalona, the always present Divine Lee, Raymond Gutierrez, Andi and Geoff Eigenmann, and a whole bunch more
!
Senator Sonny Angara ang beautiful partner!
(photo by
www.magicliwanag.com)
Whew, that was a pretty long post, but it was a wonderful long event anyway! Apologies for the late posting by the way. Good thing I still have the Wanderland hangover to write this. One of the best event I've attended so far, THANK YOU Karpos Multimedia Inc. for giving us this day of fashion, music, food, drinks, activities, that we exclusively experienced. Yup, exclusive, hipster, indie, independent thinkers, however you call it, we all know that we all shared the same infinite circle of wonderland that Saturday!
My request for the next Wanderland Music Fest line-up would be The XX, Bastille, Stars, Vampire Weekend, Passiot Pit, Tegan and Sara, Two Door Cinema Club, and a Copeland reunion perhaps? There's a lot more actually, but I'll just let your good music taste decide ;)
Spotted!
(photo by
www.magicliwanag.com)
SEE YOU NEXT YEAR... GAAAAH... WANDERLAND 2014!!!